SIU likes to run. In fact they list this saying on like every single page of their media guide:
2007 SALUKI FOOTBALL — HARD HAT + LUNCH PAIL = CHAMPIONSHIPS
OK, we get it already!
QB
- SIU has plenty of experience with
6'3" 210 SR #17 Nick Hill from DuQuoin, IL
returning. Last season he was 121 for 196 for 1,721 yds. He also had a 15 TD - 4 INT ratio.
RB
- SIU has a million RBs on their depth chart, but their main man is
5'11" 195 SR #34 John Randle from Wichita, KS
. Wait...John Randle?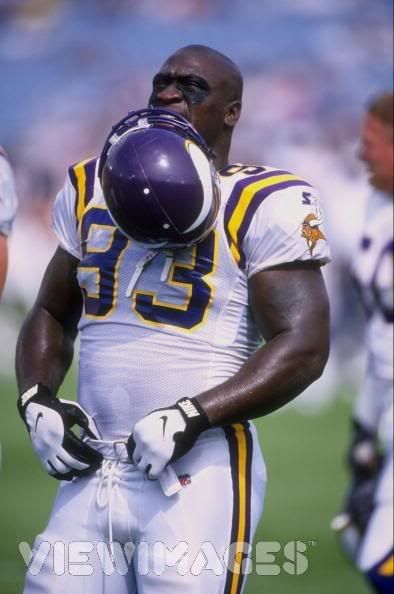 Yes, the former Viking is currently playing for the Salukis...
No its not the helmet-biting defensive phenom, but here is the equally controversial
John Randle
who plays RB:
OK, here's the dish on Randle:
Randle had 6 - count 'em -

6 run-ins with police

during his time at Kansas!

The 6-foot, 185-pound junior from Wichita Southeast's most recent skirmish came April 15, when he was given a citation for disorderly conduct and battery

when he allegedly slapped a 19-year-old woman

who tried to break up a fight between Randle and Jerome Kemp (who was not cited). Kemp and Randle were high school and KU teammates.

Randle was kicked off the KU squad March 14, 2004, after a series of arrests, including being charged with battery after allegedly hitting a man outside It's Brothers Bar & Grill, 1105 Mass. Then, following another battery arrest on April 16, 2005, KU coach Mark Mangino promised to keep Randle on scholarship if the Wichita native chose to remain at Kansas and get his degree.

Great job SIU for accepting those great character guys on your I-AA football team!
Anyways, he was the 2nd leading rusher for the Salukis last year running for 496 yds on 96 carries and with 4 scored. That's a 5.1 ypc. His longest run was for 26 yds. He was also Kansas' feature back in '04 and led the team in multiple offensive categories.
Against Quincy (A Division II School) he went for 132 yds and 2 scores on 18 carries. That's 7.3 ypc and a long run of 47 yds. If we can't stop this man, we will have problems.
WRs/TEs
If the ugly dogs from down south ever decide to throw, it will be to
6'0" 210 SR #4 Alan Turner from El Paso, IL
. Last year he caught 22 passes for 411 yds and 6 TDs. He's a deep threat averaging 18.7 ypc.